4 January 2023
The best rums in December 2022 | RumX Monthly Review

What were the hottest new rum releases in the past month? Which rums received the highest scores from our community? And where did most of the tasting take place? We are back with our Monthly Recap and will give you the key stats on what happened in the RumX world in December 2022!
Side note: In case you are interested in seeing the full list of all top lists for December, please open the RumX app, navigate to the Explore section and click on Charts - you'll find the extended lists as well as all the historical rankings over there.
Monthly charts
In the past month, the RumX community shared 9,686 tasting notes (another record number and a whopping plus of 52,4% compared to November!) and added 7,141 bottles to their collections. Moreover, with the help of the community, 308 new rums were added to the database. Obviously our RumX community members celebrated the advent and christmas season in aficionado-style and indulged themselves with some festive tasting sessions. Christmas time is over of course, but looking at these numbers our inner santa looks back in joy and cannot hold back a last "Ho, ho, ho!".
Most tasted rums in December 2022
But let's jump right into our rum stats and kick-off with a look back at the most tasted rums of the month of December 2022. And this month's top-ranked rum is a bit of a surprise entry: The Patridom XO Cask released by 1423 World Class Spirits jumped to the top position about four months after its release in August. How come? Well, let's take this as a testament of the growing popularity of rum advent calendars. 1423 started off its 24 Days of Rum for 2022 with exactly this release - and a lot of the eager tasters shared their impressions with our beloved community. Thanks a lot!
Up next we'll find an already well-known other release from one of the most iconic distilleries of our days - the Hampden Great House Distillery Edition 2022. After having been the most added bottling in November, we're happy to now see this one being tasted a lot as well. Given its average rating of 86 points, it seems to have proven as a good buy for all of the rum lovers that got their hands on a bottle (or two).
Rank three is the first representative of our very-own RumX community advent calendar - the Balcones Texas Rum. It represented one of the more "exotic" rums in our selection which is possibly why a lot of new tastings were added - a large part of the advent calendar participants did not have this one in their glasses before. The average rating of 82 points confirmed our thinking of this being a worthy representative for our advent calendar that added a welcome variety to the rums included.
Rank four is taken by another release with annual editions - the Black Tot Rum Master Blender's Reserve 2022. Also this one was included in the RumX advent calendar - given that the total number of bottles and samples added to the rum collections of our community is smaller than the number of tastings, the advent calendar might have played a key role here. Side note: In case you're a fan of the Black Tot releases have a look at the current shop offerings - the bottle is still available at some of our partner shops.
Last not least, our top five are completed by last month's top tasted rum, Velier's Cambridge STCE 2010. The release remains in high demand and interest, documented by its unchanged overall score of 86 points and a three-digit number of bottles and samples added to our community's collection.
As you can see, the December top five mostly consisted of rums that were released quite a while ago already - at least before the November and December period. When looking a bit further, i.e. to the consecutive ranks in our top ten list, we find some more recent additions as well. Once again, German bottler Spirit of Rum proved its popularity among the RumX community members by placing both their Rumclub Private Selection Edition 32 Hampden 1990 as well as its very limited Edition 31, the release of a Navy Blend Rum HQNB among the top tasted bottlings. Thanks to the eager bottle splitters in our forum both bottles could be tasted by many rum lovers - which is remarkable especially for the Navy Blend given its outturn of only 73 bottles. And for everyone with an interest and the required spare money for an outstanding release of old Jamaica rum: The Rumclub Edition 32 from Hampden isn't only the highest scored rum in our list with an impressive 91 points average but also still available in stores.
Most added to the collection in December 2022
We continue our December journey with a review of the rums that were most added to our community members' collections. And the November winner defended its top spot also in December: The most added bottle once more comes from Jamaica's Trelawny Parish - the Hampden Great House Distillery Edition 2022. Ranks two to five invite us to the great Velier show - all remaining spots in our top five are taken by recent releases of the iconic Italian bottler. Wow!
The highest ranked release ended up on rank 2 with the five year old Chelo Vieux Sajous from 2017. The combination of Sajous and Ex-Caroni casks obviously sparked the interest of our rum loving community - and given the average price point of below 100€ the offer resonated fairly well. Rank three originates from Haiti as well, the new Papalin Haiti continues the Papalin saga from Port-au-Prince with this blend of five different Haitian rums fully matured under tropical climate and bottled at 53,1%.
Rank four again goes to Jamaica's Hampden distillery, this time the Habitation Velier Hampden DOK bottled at 60,5%. Based on community ratings, this one so far is the most exciting release among the top added bottles - the average score of 87 points documents is certainly one reason for the high popularity of this release.
We're closing the December top five with our rank 3 from November, the Long Pond Cambridge STCE 2010. We're sure you'll forgive us for keeping our comments on this bottling a bit shorter at this point - after seeing this one taking various top list spots in the past months we'll instead enjoy a dram of this beautiful beast.
For all attendees of the Whisky Live in Paris back in October the list certainly brings up some sweet memories: All five of these rums could first be tasted by the public at Velier's booth at the fair. We saw quite some tasting notes in the app already from Whisky Live, others were added more recently following the official release of these bottling - and we are almost tempted to place a bet when concluding this review by predicting that we will see some of those releases again in our top tasted rums of January. Or, as the Black Eyed Peas would say: "I got a feeling"...
If you feel you missed out on any of the rums, maybe you want to check our forum - here the RumX community shares exciting finds every day. And don't forget to check out our new Buyer's Guide in the app.
Most popular tasting locations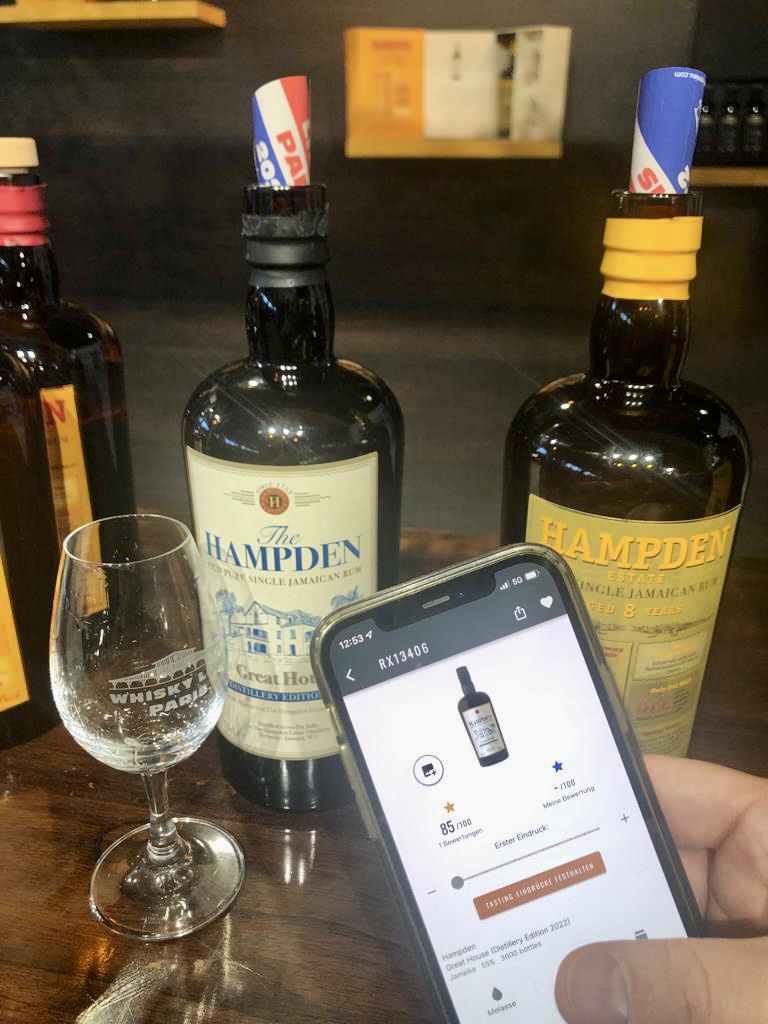 As usual, we're concluding our wee monthly review post with a check of the most popular tasting locations. And what can we say? Denmark remains the place to be for serious rum sessions as it seems. Three out of the top five tasting locations are based in Denmark, another one finished in our top ten list as well. But be aware, our Danish friends - we have other hot spots following closely: Paris finished on the third, our friends over at the Rum Depot in Berlin on the fifth and Vražkov (Czech Republic) on the sixth spot for December.
As a regular reader of this recap you might have noticed that this month we did not find too many public locations like bars, restaurants, shops or fairs in the list. Given that the holiday season is typically a time for gatherings with family and friends, we might have found an easy explanation for that - but once we're heading out of the winter season we're quite certain to find some new exciting (public) locations on the list again.
Some final thoughts: While we're excited to look into how 2023 starts for the rum community, the very next step will be another review of 2022: Just a few more days and we'll come back to you with our RumX annual report for 2022. You'll find out which bottlers were the most popular ones among our community in the past year, which bottlings were the top rums of 2022, how the list of all-time-favorite rums developed - and which other exciting rum news and trends 2022 provided us with. We're digging into the numbers and facts as we speak, but are very much looking forward to sharing the insights with all of you shortly.
P.S.: Can't wait for the final list? Have a look at some of our community members' personal highlights in our forum.
Comments
What were your personal highlights of the rum year 2022 - be it releases, tastings or get-togethers? And what surprised you the most - in a positive or negative way?