8 February 2023
Discover the Best Rums of January 2023 on RumX - Monthly Review & Analysis

What were the hottest new rum releases in the past month? Which rums received the highest scores from our community? And where did most of the tasting take place? We are back with our Monthly Recap and will give you the key stats on what happened in the RumX world in January 2023.
Side note: In case you are interested in seeing the full list for January, please open the RumX app, navigate to the Explore section and click on Charts - you'll find the extended lists as well as all the historical rankings over there.
Monthly charts
In the past month, the RumX community shared 7,018 tasting notes and added 8,211 bottles to their collections (meaning we just reached another all-time high this month!). Moreover, with the help of the community, 416 new rums (another record number!) were added to the database.
We were curious what the numbers would look like after the all-time high we've seen in December. Knowing of all the good resolutions we tend to make for the new year, we were prepared to see a little drop in the first month of 2023. But no need to worry, our beloved community has our back! The number of rums added to collections was again growing, same with the new rums added to our database. While we did indeed not see exactly the high numbers of tastings that were added in December, we still ended up on the second highest number of tastings, so even above the back then record-breaking numbers noted in November. In your face, Dry January! ;-)
Speaking of records, in January we achieved an epic milestone for RumX: the 100,000th tasting was shared! An incredible number and of course a splendid reason to celebrate with the community. We already announced it in the past days: We will run an epic lottery in February to win a sample set of our top rums in 2022 (Check our annual review for more in details about the 2022 top lists). All info can be found in this post from Oliver:
Join the lottery now
Most tasted rums in January 2023
But let's jump right into our rum stats and kick-off with a look back at the most tasted rums of the month of January 2023:
The most tasted rum comes from Haiti this time. Velier's Vieux Sajous from 2017 that was aged in Ex-Caroni casks. And Velier was definitely on a streak this month, also rank 3 and 4 are taken by the famous bottler from Italy. Their Long Pond Cambridge 2010 STCE is slowly but steadily turning into an evergreen in our list - since its (pre-)release in October it continuously ended up in our monthly top 10 most tasted rums. Rank 4 in turn, the Port au prince Providence 2019, is a new entry in January - which is easily understandable by its later release date compared with the STCE 2010. Velier's releases are however still gaining a lot of attention and the rum community seems to appreciate what they get to taste, given that all three releases scored in the 80+ points average range.
Our January top 5 are completed by the Hampden Great House 2022 and Saint Lucia Distillers Chairman's Reserve Master Selection for LMDW's Antipodes collection. The highest average score of the top 10 most tasted rums was acclaimed by another bottling though, Spirit of Rum's Hampden 1990, with a whopping 91 points. Further evidence of Hampden's dominant role in the rum market today is the fact that in our last 12 monthly top tasting lists, Hampden has been represented with at least one bottling in eleven months - at peak times even up to three bottles ended up in the respective top 10 list. Are you curious about the full top 10 list for this (or past) month? Just head over to our app and check out the monthly recap history in the Explore section!
Side note: You might remember us forecasting that the most added rums from December might have a reappearance in our January top tasted rums list. Quelle surprise - we find a 60% overlap in our respective top 5 lists. Great to see that the RumX community is not only collecting rums, but also sharing and enjoying them. Admittedly, some bottles are true masterpieces, but isn't the full beauty of a rum unveiled only when the liquid is inside a tasting glass…?
Most added to the collection in January 2023
We continue our January journey with a review of the rums that were most added to our community members' collections. And we see a premier at the top of our list - for the first time, a rum is taking the top position three times in a row. In soccer we'd call this a hat-trick - kudos to Hampden and their Great House 2022 edition! By now, almost 200 bottles are in the hands of the RumX community (well, probably quite a few more since we know that not everyone is necessarily keeping his or her collection up-to-date at all times). Impressive numbers - but still far from its older sister releases: 2020 and 2021 are both in the range of 700 bottles. For the 2021 release this means that more than one fourth of the totally released bottles are in our community's shelves, cellars or home bars. Wow!
On rank 2 we find the only true new entry in our list. Foursquare's twenty-first addition to their Exceptional Cask Series, their vintage release from 2010, was again much anticipated and a top seller in all shops. Not a major surprise anymore, to be fair - for many of the rum drinkers the Exceptional Cask Series served as an entry point to the world of Foursquare's rums and over the years kept up its reputation of offering remarkable value for money.
Rank three is taken by our most tasted rum in January, Velier's Vieux Sajous from 2017 aged in Ex-Caroni Casks. We already spent a few words about the magical effect that the combination of the bottler Velier and Caroni on a black box with a nice photograph have on many of us rum lovers - some might call it a marketing gimmick, but we still enjoy the beauty of the black bottle next to its boxes and the rum in a glass. Same holds true of course for the second Velier release in the top five, the Habitation Velier Hampden DOK 2017 - the next Hampden marque that makes its appearance in the Habitation Velier series, at least when talking about the classical series with the iconic "pharmacy bottles". And the combination of Habitation Velier and Hampden again does not disappoint - the DOK 2017 is the highest rated bottling in our top 10 list for January. Well done!
The picture is rounded up by La Favorite's June expression from their "Recolte" series - a bottle that we saw in the top ten lists in November and December already and we also discussed in our November recap. Having spoken of value for money before, this series definitely must be mentioned as well!
If you feel you missed out on any of the rums, maybe you want to check our forum - here the RumX community shares exciting finds every day. And don't forget to check out our new Buyer's Guide in the app.
Most popular tasting locations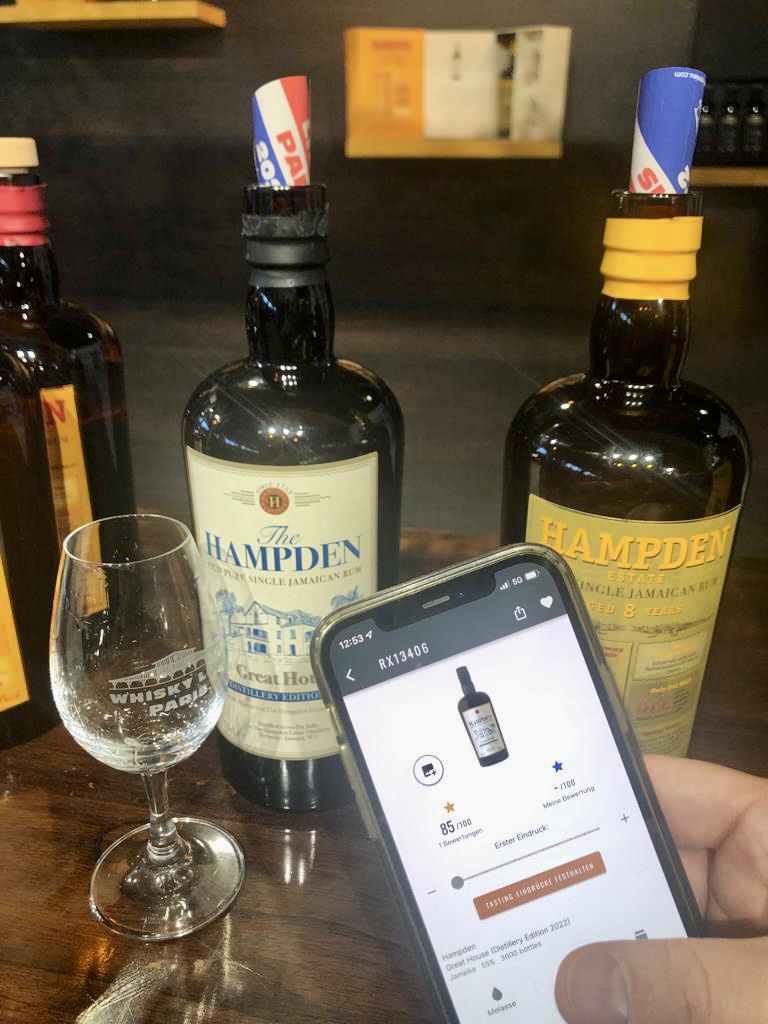 Last not least, let's check also at which locations most of our community tastings took place in January. After four months of taking the top spot, Denmark had to finally give way to our friends in Paris that were most active in January and thus claimed the first rank for them. Rank two then goes to Stuttgart, where we find parts of the RumX core team as well as some other spirit enthusiasts (Yak-lovers might immediately think of Grape of the Art - righteously so!). Maybe we should crown the rum capitals at some point - for Germany, Stuttgart might be in a good position. Challenge accepted, Berlin and Co.? Rank three finally goes to Denmark, our evergreen tasting location Kolding may of course not miss on the list.
For the first time in quite a while (September, to be precise) we also welcome Switzerland to our list again - at Hotel Porto Sofie a rum summit of the German speaking area took place with two of the leading rum groups from Switzerland coming together (Rum Lounge met with Rum Club Switzerland). We are curious to keep an eye on what is happening in Switzerland now and promise to play our part in getting Switzerland on our top locations more often - again: challenge accepted, dear rest of the world? :-)
Comments
What are your hopes, wishes and most anticipated releases, events or otherwise rum-related happenings in 2023? And: Is there anything you would like to see in our monthly recaps besides the current content?